Donations and Fundraising
Families, individuals, clubs, corporate businesses, Heads of State, governments, leaders and celebrities from all over the world and here in New Zealand generously supported the Appeal.

Creative ways to raise money included: beard shaving, student work days, garage sales, a global telethon, a radiothon, soup lunches, running up London's Gherkin, charity dinners, fashion shows, sky-diving, a special lotto draw, a celebrity cricket match, a rugby test, singing, ceramics made of silt, a boxing match and cycling 1000 miles. Throughout 2012 and 2013 donations continued to come in, including from New Zealanders donating their 2012 and 2013 tax refunds.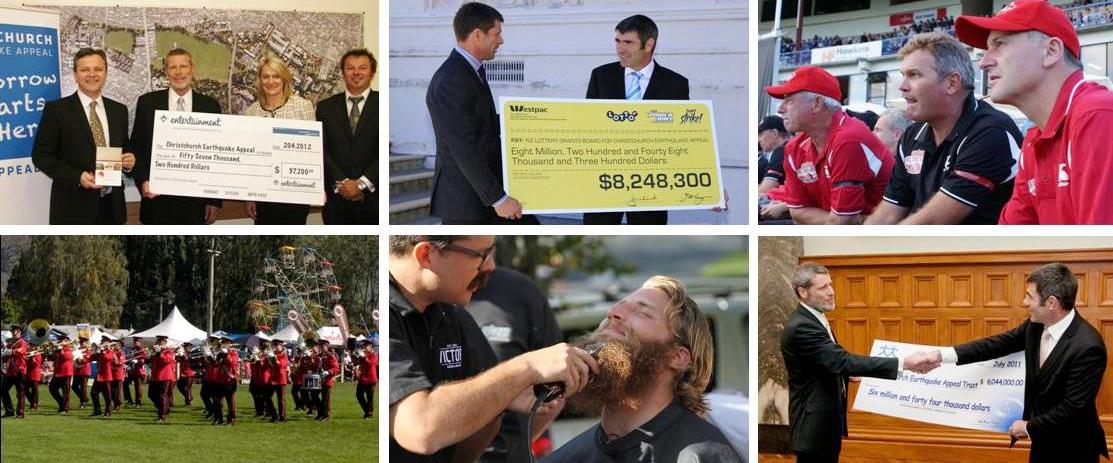 Clockwise from top left: Trustee Dr Rod Carr receives the Entertainment Book donation, then Minister of Internal Affairs Hon Nathan Guy presents the Lotto draw proceeds, Fill the Basin cricket fundraiser with Sir Richard Hadlee (left), Martin Crowe (centre) and Prime Minister John Key (right), Wanaka A&P Show, One of the Canadian Rugby Team's "Beardos", Trustee Dr Rod Carr (left) receives $6 million from then Minister of Internal Affairs Hon Nathan Guy.