4 October 2013
Appeal Trust commits $15 million to "Connecting the City to the Sea" legacy through eastern Christchurch
$15m grant is the largest to date
As at 30 June 2013: $100.4m total Appeal funds; $77.5m approved; $17.3m remaining; $5.5m to specific purposes
Appeal still receiving donations.
The Christchurch Earthquake Appeal Trust today announced its largest-ever grant committing $15 million of Appeal funds towards great community projects that make a positive difference to the future of the eastern suburbs, with access and benefit to everyone who lives in or visits Christchurch.
The $15 million will fund future projects that help connect the city to the sea from Te Papa Otakaro/Avon River Precinct at Fitzgerald Avenue through eastern Christchurch. "Connecting the City to the Sea" projects could include such things as permanently restoring environmental, recreation and sporting features, wetlands, walkways, cycleways, public performance spaces, community spaces and play areas.
Christchurch Earthquake Appeal Trustee Dr Rod Carr says: "A lack of funds should not strangle great ideas for communities. Our intention is to commit funds towards the things that help make communities great places to live in. When people donated to the Christchurch Earthquake Appeal, many gave to help people similar to themselves who were in greater need. With this grant, we intend to leave a public legacy that honours the thousands of people who generously donated."
Defining these projects and their start dates will vary. Some will be ready relatively soon, while others may take a year or two as the future use of land is identified.
Trustee Dr Carr made the announcement and presented highlights of 2012/13 Appeal Trust grants and donations to a gathering of past grant recipients and invited guests at Avon Park Bowling Club in Christchurch. Avon Park was one of 14 clubs to repair its earthquake-damaged greens in 2012 from a $145,600 grant from the Appeal Trust.
The Appeal Trust also reported its financial statements for the 2012/13 year and thanked donors for $2.6 million of new pledges and donations in the past year, including the 1,263 New Zealanders that donated their tax rebate (total $325,708.57).
"This generosity has enabled Trustees to fund many more projects and it really is a privilege to have funds remaining to help a wide range of communities as Canterbury continues to recover, three years after the September 2010 earthquakes," says Dr Carr.
Since 27 February 2011 the Appeal has raised $100.39 million in pledged and received funds and channelled a total $77.54 million in grants to projects across Canterbury. At 30 June 2013 $17.34 million remained available although Trustee decisions made in 2013/14 has since allocated $2.5 million of this to new recovery projects. In addition, $5.51 million is directed to specific purposes.
Trustees intend to allocate the remaining Appeal funds by early 2014, and thereafter all grants will continue to be administered and monitored within the Department of Internal Affairs until the end of the Trust's 10-year lifetime.
Trustees must honour the intentions and wishes of donors, and in allocating Appeal funds to projects, Trustees consider that they: Provide relief to the community of Christchurch and the Canterbury region from the adverse effects of the earthquakes; deliver the widest possible benefit for the community; address multiple needs with one solution; be collaborative, and proposed by an organisation or Trust with proven capability to effectively deliver results.
Projects funded with Appeal funds to date include: Water attractions at the new Christchurch City Council sports centre for the eastern suburbs; Rangiora Showgrounds repair; Kaiapoi repairing walkways, cycleways and other public amenities along the Kaiapoi River; iPads/Netbooks and software for primary school children; restoration of the Arts Centre; the Re:START mall; the temporary AMI stadium; St John emergency equipment; Isaac Theatre Royal; repairing sports fields and netball/tennis courts.
2012/13 financial statements are available here.
A full list of projects funded by the Appeal Trust is available here.
ENDS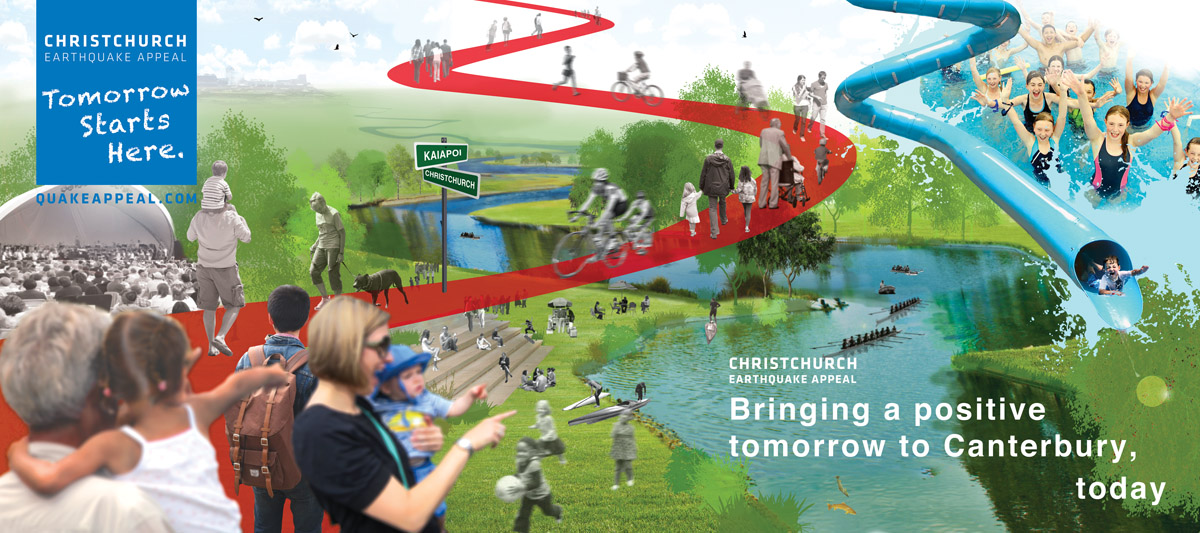 This image can be downloaded in high resolution here.