20th December 2012
Appeal Trust funds volunteer marine search and rescue covering most of the coast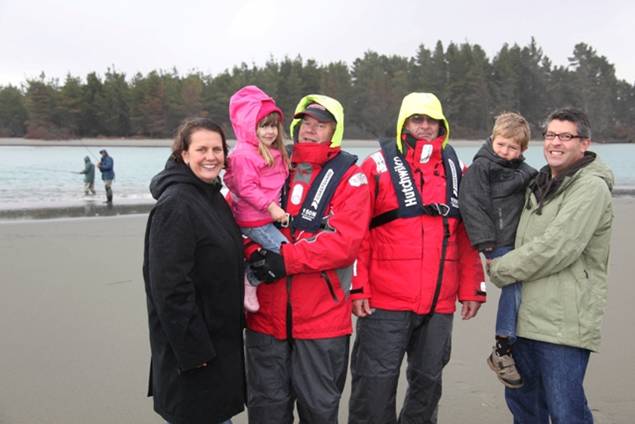 The Christchurch Earthquake Appeal Trust today granted $364,000 to marine search and rescue facilities damaged in the earthquakes that serve most of Canterbury's coastline from Kaikoura to Timaru and along the Waimakariri River.
Coastguard Waimakariri-Ashley will receive the final $314,000 it needs to construct new $1.1 million premises on the Kaiapoi River that were damaged beyond repair in the September 2010 earthquake.
Coastguard's Sumner Lifeboat Institution will receive $50,000 of Appeal funds to extend its slipway so it can launch its primary water rescue vessel at low tide, after the earthquakes changed the topography of the coastline.
Christchurch Earthquake Appeal Trustee Dr Rod Carr says "Trustees support both these voluntary organisations because they provide an invaluable service to Canterbury by saving lives on the water. It made sense to grant the final funds needed by Coastguard Waimakariri-Ashley to build their premises, and to help Sumner Lifeboat build a new slipway, so that both can continue to carry out marine search and rescue."
Marine search and rescue for the entire Canterbury region is provided by Coastguard Units at Waimakariri-Ashley and Sumner along with four other Coastguard units.
The value of the Coastguard service to the community is best demonstrated through the words of those who are rescued by Coastguard volunteers. Peter Deefholts was washed out to sea while he was fishing at the Waimakariri-Ashley river mouth. Fishermen on the bank saw what happened and immediately dialled 111. The Police then tasked Coastguard volunteers to respond. Within six minutes a full crew of Coastguard Waimakariri-Ashley volunteers launched the rescue vessel from their base on the Kaiapoi River and were on their way to rescue Peter. Within half an hour Peter had been pulled from the water 300 metres offshore and a kilometre north of where he was swept into the sea. In Peter's words, "I am now a whole lot wiser and eternally grateful for the Coastguard. I am acutely aware of just how dangerous our coastline can be, and how important the Coastguard is to keeping us all safe."
Minutes were vital in Peter's rescue. Having the Coastguard building located beside the water and within easy reach of local volunteers made the difference.
New Zealand's 15,000 kilometres of coastline is a workplace and playground for many New Zealanders and the Coastguard is often the only means of rescue when things go wrong.
Coastguard's Sumner Lifeboat Institution spokesperson, Nick Carter says "the launching and retrieval of rescue vessels has been problematic due to the lack of clear water at low tides which has impacted the organisation's efficiency in the carrying out of rescues."
"The Canterbury earthquakes have also changed the topography of the coast around Sumner and currently key rescue boats cannot be efficiently launched 90 minutes either side of low tide, causing potentially disastrous delays for rescue operations."
"We are incredibly grateful to the Christchurch Earthquake Appeal Trust and really pleased the Trust sees the importance of improving the slipway," says Mr Carter.
Construction of the new slipway will begin once consents have been approved and contracts awarded with a projected completion date of June 2013.
Coastguard Waimakariri-Ashley expects to start construction of its new premises by April 2013.
The Christchurch Earthquake Appeal Trust has to date granted $51.93 million to projects including ICT equipment for primary school children, netball courts repair, support to major social service providers, business recovery, women's refuges, repairing homes of uninsured vulnerable residents, and the rebuild of the Arts Centre.
[ends]
---
About the Christchurch Earthquake Appeal Trust:
The Christchurch Earthquake Appeal was launched by Prime Minister John Key on 27 February 2011 as the Government's official, global fundraiser for the recovery effort and raised more than $100 million. The Christchurch Earthquake Appeal Trust is responsible for allocating the funds raised to support earthquake recovery initiatives. The Trust is an independent charity, registered under the Charities Act of New Zealand and is governed and operated by the Trustees independent of government.
About Sumner Lifeboat Institution
Inaugurated in 1898, the Sumner Lifeboat Institution Inc. is one of the oldest surviving Coastguard units in New Zealand. It is situated at the base of Whitewash Head at the far eastern corner of Sumner Bay, Canterbury. Since 1898, Sumner Lifeboat has brought over 2,000 people to safety, recovered property worth millions and spent countless hours at sea. www.sumner-lifeboat.org.nz
About Coastguard Waimakariri-Ashley Lifeboat
Coastguard is the charity that provides New Zealand's primary maritime search and rescue service. Coastguard Waimakariri-Ashley is a volunteer organisation with a charitable status. It has 41 active Professional Volunteers who last year provided over 4,000 hours of their time to educate, protect and help save lives at sea. Coastguard Waimakariri-Ashley volunteers responded to 209 radio calls, five calls for help from members of the public and ten Police call outs last year. Nineteen people were rescued and brought home safely to their families. All crew members on board Coastguard vessels are volunteers who are trained search and rescue personnel working to enhance the safety of all New Zealanders when they participate in boating and water activities.