5th December 2012
Appeal Trust grants $410,000 to ICT equipment for primary school children
The Christchurch Earthquake Appeal Trust today announced a $410,000 grant for portable ICT equipment plus literacy and numeracy software to help the learning of more than 2,400 children at 11 primary schools in Christchurch's eastern suburbs.
The Appeal funds have been granted to the Greater Christchurch Schools Network, which will provide the equipment to schools located in the most earthquake-impacted areas. The equipment will be available for use by the children from the first day of Term One 2013.
The 11 schools with immediate needs for educational support are Aranui Primary, Central New Brighton, St James, Freeville, New Brighton Catholic, Parkview, South New Brighton, North New Brighton, Wainoni, Burwood and Avondale.
With this grant, the Greater Christchurch Schools Network will buy portable digital devices (such as tablets, iPads or netbooks) and software to help literacy and numeracy learning. The equipment will utilise the ICT wireless infrastructure provided by the Ministry of Education. The ICT equipment may need to be redeployed as decisions are made about future school locations in greater Christchurch.
This grant is generously supported with $310,000 donated by John A. Griffin, President of Blue Ridge Capital (NY) and $100,000 donated by the UK Appeal Trust*.
Carol Moffatt, Programme Director elearning Greater Christchurch Schools Network, says "this gift to the children in these eleven primary schools is going to mean so much. It is simply tremendous! Their learning will be enhanced because of the increased opportunities they will have to learn, to connect and to enjoy the benefits that these digital devices will bring to them. This will enable children to share their work with others, provide new learning opportunities from around the world and with the new software, focus on literacy and numeracy."
"The principals and teachers are so excited and so grateful for what the Trust has offered them," says Carol.
Christchurch Earthquake Appeal Trustee Dr Rod Carr says that "Trustees are pleased to support this education initiative with funds that will benefit the learning of many primary school children in the eastern suburbs."
The Greater Christchurch Schools Network will organise the implementation and professional development to support the programme.
In 2011, the Greater Christchurch Schools Network received $156,000 in Appeal funds to provide video conferencing to 18 secondary schools in greater Christchurch.
The Christchurch Earthquake Appeal Trust has to date granted $51.93 million to projects including KiwiSport programmes in the eastern suburbs, support to major social service providers, business recovery, repairs to homes of uninsured vulnerable residents, women's refuges, repairing sports facilities and playing fields, and the rebuild of the Arts Centre.
[ends]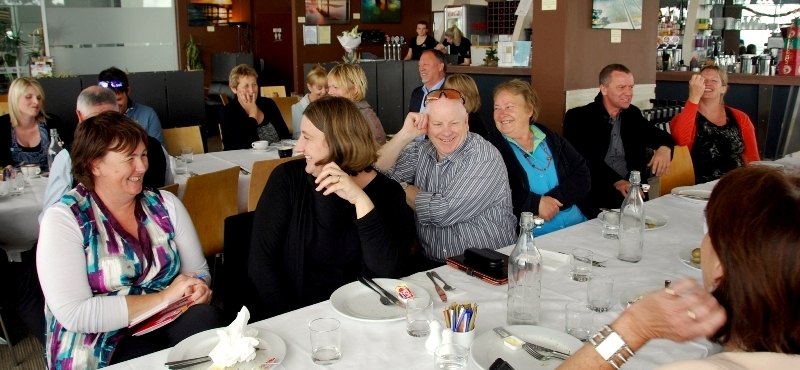 Caption: The 11 excited Christchurch Primary School Principals and e-leaders soon after hearing the Christchurch Earthquake Appeal Trust ICT grant announcement 30 November 2012. Nearest to camera (left to right) Tricia Carroll, Helen Parata, Brian Walkinshaw, Iris Derham, Paul Wilkinson and Audrey McKenzie. Rear table (left to right) Kirsty Fletcher, Ryan Pearce, Glenda Emile, Susan Jennison, Mike Hilliard (GCSN Programme Director – Technology Solutions).
[High res image available here]
About the Appeal Trust:
The Christchurch Earthquake Appeal was launched by Prime Minister John Key on 27 February 2011 as the Government's official, global fundraiser for the recovery effort and raised more than $100 million. The Christchurch Earthquake Appeal Trust is responsible for allocating the funds raised to support earthquake recovery initiatives. The Trust is an independent charity, registered under the Charities Act of New Zealand and is governed and operated by the Trustees independent of government.
*The United Kingdom Christchurch Earthquake Appeal Trust was set up following the 22 February 2011 earthquake by interested expat New Zealanders and the New Zealand High Commission in London, to allow UK donors to help Cantabrians rebuild their lives and their communities. Since its establishment, the UK Appeal has raised approximately $5 million dollars to assist Canterbury, both directly and through other charities. This funding has been used to support a variety of charitable projects in the Canterbury region, including community projects, sporting projects and educational projects. The UK Appeal Trust is an independent charity registered in England and Wales (1141365) and is governed and operated by independent Trustees.