19 June 2013
Appeal Trust grants $500,000 to assist rebuild of Cholmondeley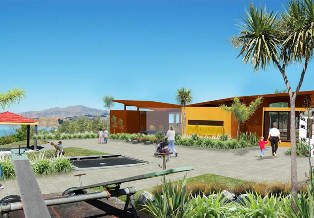 Cholmondeley Children's Centre is delighted to announce it has been granted $500,000 from the Christchurch Earthquake Appeal Trust towards rebuilding Cholmondeley.
The original Cholmondeley Homestead, built in 1925, was terminally damaged in the February 22, 2011 earthquake and deconstructed in 2012.
"This significant donation from the Christchurch Earthquake Appeal Trust is a huge contribution and a great boost to our fundraising efforts" says Cholmondeley Chairman Kerry Dellaca, "we are extremely grateful that at a time when so many worthwhile rebuilding projects are proposed that the Appeal Trustees have supported Cholmondeley to the extent they have. It is fantastic news."
Christchurch Earthquake Appeal Trustee Dr Rod Carr says "Cholmondeley Home is unique to Canterbury and has a special place in our region, having supported vulnerable children and young people over many decades, and Trustees acknowledge this in granting $500,000 towards rebuilding the earthquake-damaged part of Cholmondeley House."
Cholmondeley launched their Capital Fundraising Campaign in March this year at an event held at Ohinetahi and has been working with a number of Trusts and Individuals to raise the additional $4m that it requires to rebuild after allowing for the insurance settlement it has received.
This is on top of the $1.2m that Cholmondeley raises on an annual basis for normal operations. "Cholmondeley is an integral part of the Canterbury community and we are very fortunate to have so many loyal supporters on a regular basis", Mr Dellaca said. "Last year alone we had a 52% increase in the number of first time children coming to stay at Cholmondeley, a clear illustration of the need for Cholmondeley's services in the future".
A modern, fit-for-purpose facility will be built on site at Governor's Bay.
The design reflects contemporary architectural practice in creating safe, child centered environments and it is planned to be back on site at the end of 2014.
About Cholmondeley
Cholmondeley provides short-term and emergency respite care for children aged 3 - 12 years, (5 - 12 while at Living Springs) with the aim of alleviating immediate family pressures which exist for children and their parents when the usual supports are not enough or not available.
For more information about how you can help rebuild Cholmondeley please contact Sarah Barrer, Cholmondeley, Capital Fundraiser – 0275449977 or sarahb@cholmondeley.org.nz