8 March 2013
Appeal funds to fix football fields and provide community centres in Belfast and Opawa
The Christchurch Earthquake Appeal Trust today announced almost $700,000 in grants to repair and upgrade football playing fields and to reinstate community centres in Belfast and Opawa.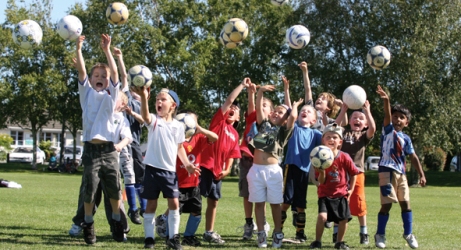 Up to $202,000 will fix ground drainage at Garrick Park for Cashmere Technical Football Club's 1,300 registered players in time for the 2014 season start. NZCT is contributing to this project, as well as the Barmy Army which is holding a cricket fundraising event in Wellington on March 16.
Up to $143,500 for flood lighting the number two football field at Avonhead Park to support player development and matches amongst Mainland Football's 10,500 registered players. NZCT is contributing to this project.
Up to $233,000 will help the Belfast community to build a new transitional centre for the 15 organisations that provide local services including after-school and holiday programmes, playgroup, youth groups, community meals, and many other activities. The UK Appeal Trust* is contributing $100,000 to this project.
Up to $120,000 will help Opawa residents build a new transitional centre for their popular community programmes and activities that were previously held in the Risingholme Community Centre Hall.
Christchurch Earthquake Appeal Trustee Dr Rod Carr says "local sport and community groups that run on the fuel of volunteer labour have been really impacted by the earthquakes in many communities. The Trustees hope that these grants will help get their activities and programmes back up and running to bring back some normality to their communities. Without help from the Appeal Trust, and the specific wishes of our donors, it is unlikely that these projects would have received funding in the foreseeable future."
The Christchurch City Council supports the need for transitional facilities for the next three to five years.
Cashmere Technical Football Club will use its Appeal Trust grant to comprehensively drain three football pitches at Garrick Park that were completely destroyed by the earthquakes.
Club President Bill Cowen says "Our club has lost six of its eight senior football fields and for the past two years has been struggling to function. This wonderful grant not only provides a practical solution to restoring playing fields at our badly affected home base for our 1,300 plus players, literally getting them back on their feet playing, but also very, very importantly empowers the Club's many volunteers to keep their heads up and keep going. Like the rest of Christchurch we still have much to do, but it was lovely to see the smiles around our meeting table when this grant was announced. Onwards and upwards Christchurch! Thank you to the Appeal Trust."
Mainland Football CEO Mike Coggan says the Appeal Trust grant is a significant investment, not only to solve earthquake related challenges but to future proof for expected growth. "We relied heavily on the flood-lit QEII Park to operate our development and talent programmes and competition matches, but with its recent demolition Avonhead Park has been identified as the only genuine replacement."
The flood lighting will enable play through the dark winter months and help alleviate heavy demand on the ASB Football Park. Coggan says that lighting Avonhead Park will also benefit football long-term if Christchurch is successful in its bid to host the FIFA U20 Men's World Cup. "Not only will we have FIFA approved 500 lux flood lighting, but we can push forward with our endeavours to create a quality sand based surface, something world class footballers will expect to train on in 2015. Football deeply appreciates the Appeal Trust's support," says Coggan.
Belfast Community Network Agency Manager Lynda Goodrick says, "We are thrilled to begin the final plans of a transitional facility for our community. It will be fantastic to not only provide a space for our community to use but also for our wonderful staff to work from to deliver services to our increasing population in Belfast. For the past 12 months we have had to cut back on programmes, so it will be great to again have young people dropping in, our older folk coming by for a cup of tea and something to eat, the noise of children again being a part of our organisation, and to re-establish our community garden. We so look forward to an amazing community event to celebrate the opening of this facility during Neighbourhood Week in October this year. Our thanks to everyone throughout Aotearoa, to the UK Appeal Trust for its generous donation and our other contributors for helping us to continue 'Supporting Our Community As It Grows'!"
Risingholme Community Centre Director, Maryke Fordyce says, "We expect to have a multi-purpose community facility ready by October 2013. This will provide a home for the huge range of local community groups that used the Centre as a base prior to the earthquakes, such as Al-Anon, the Risingholme Orchestra and the Risingholme Singers, and it will also be available as a much-needed community meeting space for the area."
The Christchurch Earthquake Appeal Trust has to date granted $52 million to projects including ICT equipment for primary school children, volunteer marine search and rescue, netball courts repair, support to major social service providers, business recovery, and the rebuild of the Arts Centre.
Trustees are now considering committing funds to a number of large legacy projects with the bulk of the remaining $40 million Appeal funds, in the eastern suburbs and across greater Christchurch. Trustees intend to announce these community legacy projects at the end of March 2013.
[ends]