22 April 2013
Gymnastics standing even stronger at QEII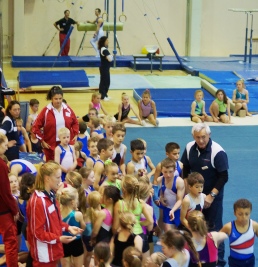 The Gymnastics Centre at QEII is reopening their older gymnasium on Friday 3rd May; extensive strengthening work has been completed over the last few months, and now the mezzanine floor and the original gymnasium can be used again.
Severely damaged in February 2011 the school was able to continue after some strengthening, but the older of the 2 gymnasiums had to close again early in 2012 due to the damage caused by the December '11 quakes, the school continued on. "It was very hard and our competitive programmes were stifled due to the lack of training space, but the gymnasts never gave up their aspirations and dreams, and that motivated and inspired us to work hard with them to ensure that they could be the best they could be" said Head Coach Jozsef Ferencz.
The Christchurch Earthquake Appeal Trust granted $100,000 of the $165,000 towards strengthening and repairing the older gymnasium to 62% of the NZ Building Standard, providing competitive gymnasts with a training and competition-grade venue for at least two years while decisions are made on a permanent location. NZ Community Trust is contributing to this project.
Christchurch Earthquake Appeal Trust Advisory Board Chair, Jane Huria says: "We have a huge number of talented young gymnasts here in Canterbury and the Appeal Trust has been keen to ensure that these young people have access to training facilities while they wait for longer-term decisions to be made."
The school was named the Canterbury High Performance Centre when the stadium was opened in 1997; and although many of the National team members train at the school, it has an important place in the community recreation space with over 1000 children participating in gymnastics programmes every week.
The school will host an open day on Saturday 4th May from 1pm to 4pm to enable the community to celebrate the return of a much loved facility, and for youngsters to try gymnastics.
The Christchurch Earthquake Appeal Trust was established by the Prime Minister shortly after the February 2011 earthquake and to date it has raised more than $100 million in pledges and donations for earthquake recovery initiatives.
[Ends]