Thursday 4 April 2013
Appeal Trust grants $8.7 million to long-term recovery projects in Kaiapoi and Christchurch eastern suburbs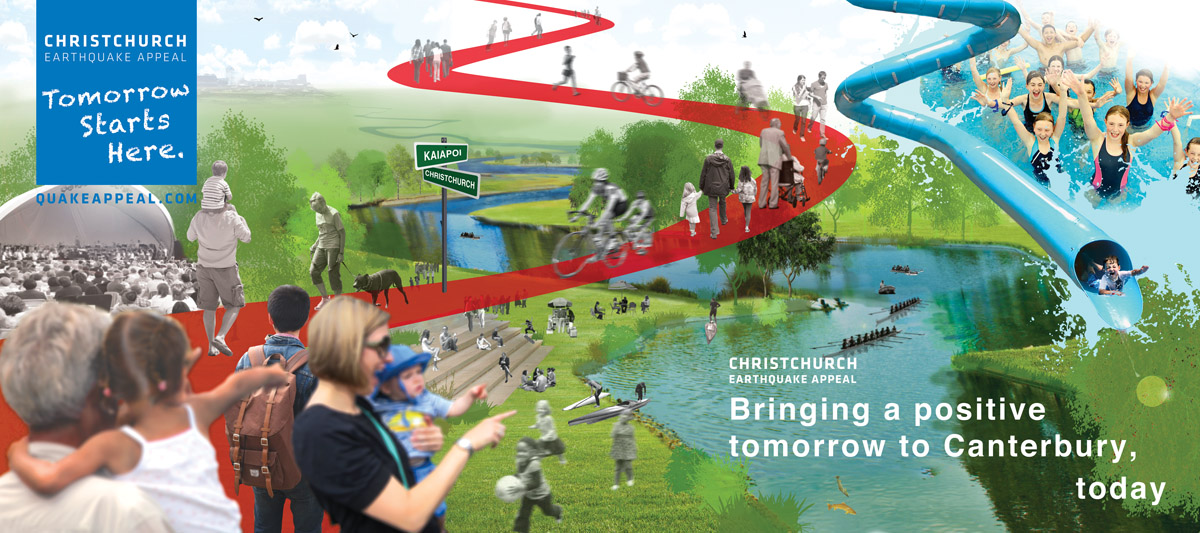 The Christchurch Earthquake Appeal Trust today announced that $8.7 million of Appeal funds have been dedicated to three permanent projects on the Kaiapoi River and in the eastern suburbs of Christchurch.
These are the first in a number of large permanent projects that Trustees have been considering supporting with the remaining $40 million Appeal funds. The first large, permanent projects are:
$2 million to the Kaiapoi Riverbanks Project to provide and repair walkways, cycle ways and other public amenities along the Kaiapoi River through Kaiapoi township. $2 million is now available to the Waimakariri District Council to stimulate this project and begin work.
$6.5 million for water attractions at the new Christchurch City Council Recreation and Sports Centre in the eastern suburbs. This grant includes $3.1 million generously donated by an anonymous donor who gave $5 million to the Appeal to help fund projects for children in the eastern suburbs, and $500,000 kindly provided by New Zealand Community Trust. Trustees hope that the Appeal Trust funding can make the aquatic facility great fun with a lot more to offer people and by providing confirmation at this early stage Council can include water attractions in the overall design of the centre.
In addition, the Appeal Trust is granting $200,000 to repair the Cure Boating Club's building on the Kaiapoi River that was particularly damaged in the September 2010 earthquake. New Zealand Community Trust is kindly contributing to this project.
Christchurch Earthquake Appeal Trustee Dr Rod Carr says: "The Trustees' vision for these large permanent projects is to help 'bring a positive tomorrow to Canterbury today' and leave a legacy to the Appeal. We've dedicated $8.5 million to help boost these two great projects along, providing certainty that they can progress, so go for it Canterbury! Champion these great projects and move them forward for us all."
It is now up to Canterbury's leaders to turn these large projects into reality and the Appeal Trust has been assured that each project, having support from communities, will now be developed together with these communities.
As the Canterbury region has moved from immediate response to long-term recovery from the earthquakes, so has the focus of the Christchurch Earthquake Appeal Trust. Trustees have been considering how best to use the remaining funding to make a positive difference to Canterbury's long-term recovery, and expect to fund further large projects during 2013 while ensuring that limited funds remain available for smaller local community projects.
The Appeal Trustees sought information on a range of large projects, and time and again these large projects were identified by individuals, community groups, and community leaders across Canterbury and proposed to Trustees. Without funds from the Appeal Trust it is unlikely that these projects would have progressed in the foreseeable future. The Trustees appreciate that there are still details, including the location of the Recreation and Sports Centre, to be worked through for each project and look forward to working with those involved in the coming months.
The Christchurch Earthquake Appeal raised over $100 million. To date the Appeal Trust has approved $61 million for projects, while a further $8 million has been pledged for specific purposes and projects. Trustees intend to allocate most of the remaining Appeal funds by early 2014, while the Trust Deed allows for the Trust to exist for a further seven years which enables it to administer the funding allocations.
Canterbury projects funded with Appeal funds to date include: ICT equipment for primary school children, restoration of the Arts Centre, Re:START mall, the Temporary AMI Stadium, St John emergency equipment, Isaac Theatre Royal, repairing sports fields and netball/tennis courts, temporary Pools in Schoolz.
Waimakariri projects funded with Appeal funds to date include: Temporary business accommodation in Kaiapoi and Rangiora, Kaiapoi Aquatic Centre, Coastguard Waimakariri-Ashley Lifeboat. Jointly with Vodafone New Zealand Foundation we have funded Kaiapoi BMX Club, North Canterbury Rugby League Club, Big Brothers and Big Sisters of North Canterbury, and transporting children to swimming lessons at the nearest pool - Dudley Park Aquatic Centre.
A full list of projects funded by the Christchurch Earthquake Appeal Trust is available here: http://christchurchappealtrust.org.nz/Running-list
High resolution files of the above image can be downloaded here from Resources.

[ends]
Other media statements for this announcement: